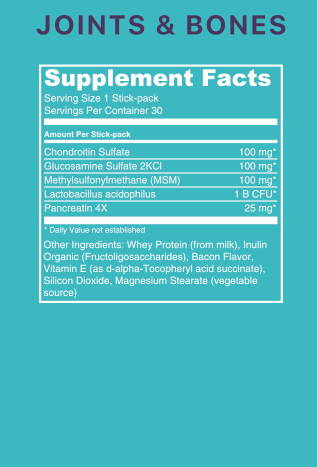 Benefits Of Our Joints & Bones Booster
Enhances Agility & Mobility: Within just a week you'll notice a positive difference in your dog's movement and activity. You'll see an increase in energy and overall eagerness for activity. As connective joint issues are repaired your dog will rediscover their love for running, jumping and walking.
Promotes An Active Lifestyle: The powerful combination of Chondroitin & Glucosamine will begin to rebuild cartilage in your dog's joints. Your dog will start to regain enhanced mobility and enjoy a more active lifestyle.
Advanced Arthritis Relief: We bring together a mix of ingredients that alleviates arthritic symptoms and discomforts boosting the quality of life for your dog.
Pain Relief & Comfort: Methylsulfonylmethane (MSM) will naturally relieve your dog's joint pains and alleviate arthritis symptoms. Our enzyme blend ensures that your dog gets the maximum pain relief benefits of MSM by helping absorption.
All formulas are backed by research.
Taste: Bacon Flavor
Form: Powder
Product Weight: 1.05 Oz
Number of Boosters: 30
Supply Amount: One month
Store in a cool dry place. Shelf life is 1.5 years.
One stick daily for small breeds.