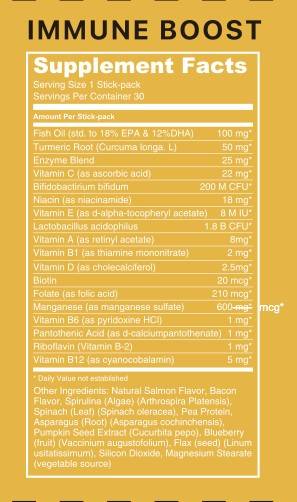 Benefits Of Our Immune Booster
Happy & Healthier Dog: Within just a week you'll notice a positive difference in your dog. You'll see an increase in energy and overall happiness. If your dog has infections you'll see them starting to clear up.
Promote Optimal Immune System Health: The powerful combination of Omega 3, Turmeric, Vitamin Blend, and probiotics help boost your dog's immune system. These ingredients are the essential to rejuvenate and fortify your dog's immune system. As we like to say, "A healthy dog is a happy dog".
Help Fight Off Infections: Your dog may be suffering from infections you don't know about. These infections wear down the immune system causing health complications. Vitamins B6, C, and E are key to help fight off infections which in turn helps them feel healthier and happier.
Fortifies Natural Defense Against Disease and Health Issues: The vitamin blend in the formula for dogs is incredibly important. It's a potent antioxidant that can have a very positive effect on immunity, which in turn works to support natural defenses against diseases, bacteria, and infections.
All formulas are backed by research.
Taste: Salmon & Bacon Flavor Mix
Form: Powder
Product Weight: 1.05 Oz
Number of Boosters: 30
Supply Amount: One month
Store in a cool dry place. Shelf life is 1.5 years.