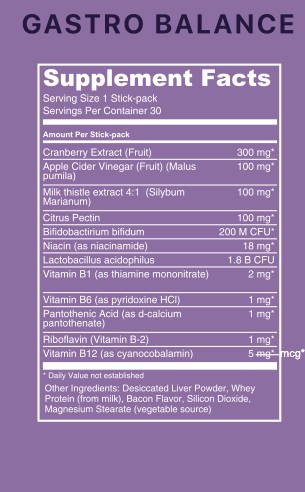 Benefits Of Our Gastro Balance Booster
Rebalanced Healthy Gut: Gut bacteria plays a huge role in the lives of dogs. When the gut microbiome becomes unbalanced, it can lead to various health problems, such as diarrhea or inflammatory bowel disease. Our booster provides the nutrients needed to rebalance the microbiome and support optimal digestive health.
Alleviate Allergy Symptoms: Health starts in the gut. Faulty processing of nutrients in your dog's gut can lead to allergic reactions like skin issues and food intolerance. Our formula contains Niacin and Riboflavin which are foundational for metabolism and digestion. They ensure that these nutrients are delivered to your dog's bloodstream properly and effectively.
Fortifies Immune System: 70% of your dog's immune system health can be traced back to the gut. A healthy gut is a healthy dog. The gut microbiome helps control immune responses to allergens in the intestines, thereby affecting your dog's reaction. Our probiotic blend is designed to strengthen and fortify the gut through enzymes, probiotics, and vitamins to aid in digestion and metabolism of nutrients.
Vomiting & Diarrhea Remedy: Dogs are notorious for eating things they aren't supposed to. Sometimes the things they eat may be infected or have bacteria that causes an upset stomach. Our probiotic and pectin blend is the perfect upset stomach remedy for these inconvenient occasions.
All formulas are backed by research.
Taste: Liver
Form: Powder
Product Weight: 1.05 Oz
Number of Boosters: 30
Supply: One month
Works For: Dogs and cats
Prescription: Not required
Dosing frequency: Daily
Storage: Cool, Dry place
Shelf life: 1.5 years
Store in a cool dry place. Shelf life is 1.5 years.