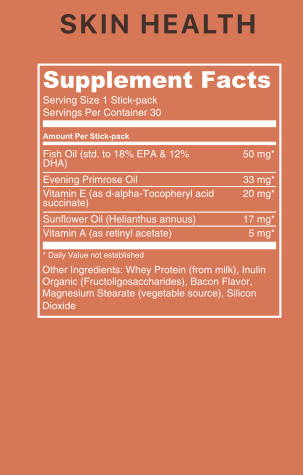 Benefits Of Our Skin Health Booster
Itch Relief: Our ingredients have been used to treat eczema, psoriasis, and other skin diseases on humans. We're making the same ingredients for your dog, but in doggie form - delicious and easy to eat. Combined with Sunflower Oil, this is the ultimate fast-acting remedy for itchy skin.
Nourishes and Moisturizes Skin: The powerful combination of Omega 3s, Sunflower Oil, and Vitamin A & E blend is a super nutrient boost to your dog's skin health and wellness. In no time you'll notice a more nourished and shinier coat.
Optimal Condition: The powerful combination of our ingredients not only promote optimal coat health, but also reinforce health in other key areas like eyes, bones, and the immune system.
Reduces Inflammation and Irritation: Almost every ingredient in this booster has anti-inflammatory properties to improve skin and coat health and relieve uncomfortable symptoms like irritation.
All formulas are backed by research.
Taste: Bacon
Form: Powder
Product Weight: 1.05 Oz
Number of Boosters: 30
Supply: One month
Works for: Dogs and cats
Store in a cool dry place. Shelf life is 1.5 years.